Prime Minister Narendra Modi inaugurated the 'Chauri Chaura' centenary celebrations at Chauri Chaura in Uttar Pradesh today via video conferencing. The day marks the beginning of the 100th year of the 'Chauri Chaura' incident, a landmark event in the country's fight for Independence.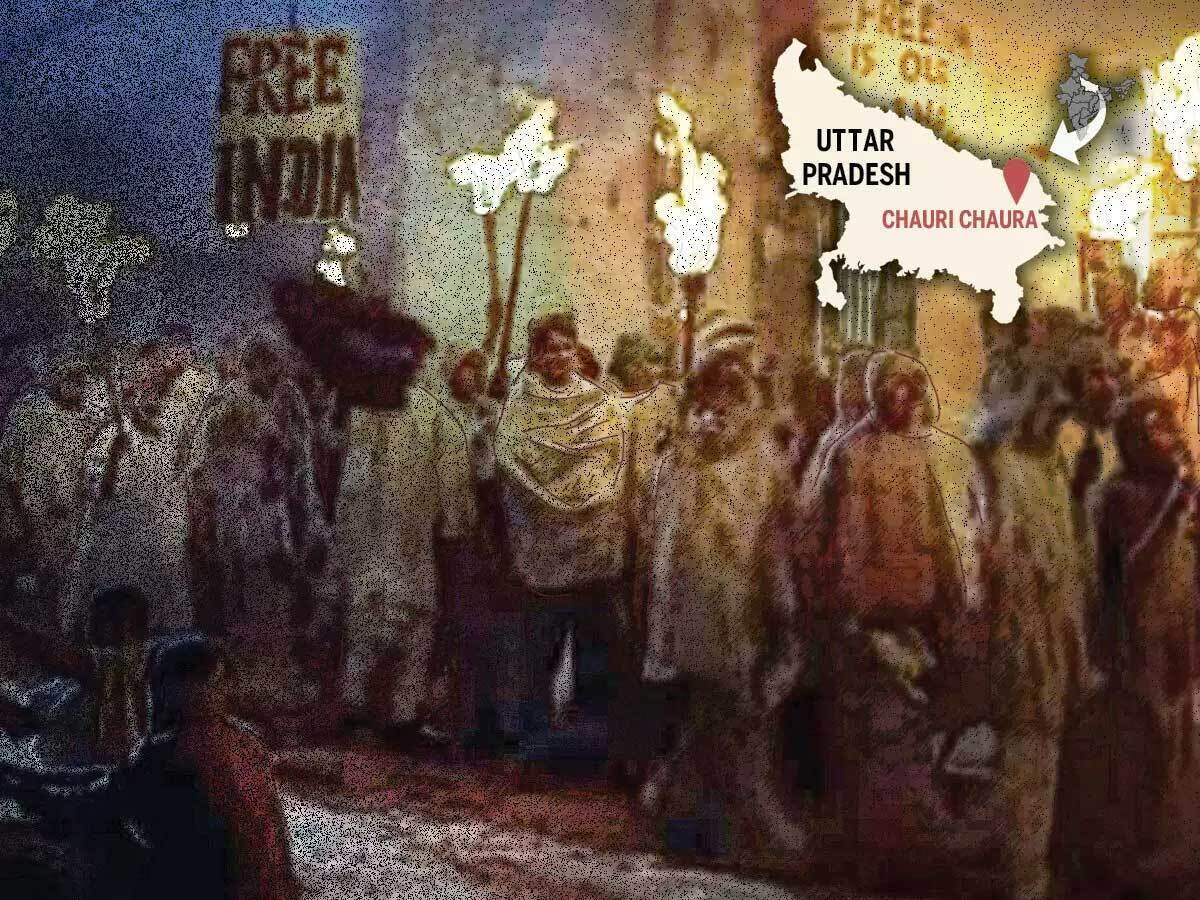 Where Chauri Chaura is located?
Chauri Chaura (Pargana: Haveli, Tehsil: Gorakhpur) is a town near Gorakhpur, Uttar Pradesh, India, located on the State Highway between Gorakhpur and Deoria, 30.5 kilometres (19.0 mi).
What happened in Chauri Chaura in 1922?
The Chauri Chaura incident occurred at Chauri Chaura in the Gorakhpur district of the United Province, (modern Uttar Pradesh) in British India on 4 February 1922, when a large group of protesters, participating in the Non-cooperation movement, clashed with police, who opened fire.
Why is the Chauri Chaura incident important?
Chauri chaura incident happened on 4th February 1922 in Chauri chaura village in Gorakhpur district of Uttar Pradesh is very important in the history of national movement. The incident lead to killing of 22 policemen and immediate end of Non-Cooperation Movement by Gandhi owning to violence.
Who was the leader of Chauri Chaura incident?
Mahatma Gandhi. The incident dealt a blow to the nonviolent noncooperation movement led by Mahatma Gandhi, who denounced the violence in Chauri Chaura and called off a campaign of civil disobedience that he had been about to launch in Bardoli, Gujarat state.
Why did the peasants set fire to police station in Chauri Chaura?
On February 4, 1922 police had fired on a mob of angry peasants fighting for the freedom of their country. In retaliation, the villagers had set the police thana on fire, burning to death 23 policemen. Appalled by the violence, a disillusioned Gandhi had suspended the Non-Cooperation Movement.
Who died in Chauri Chaura?
The incident led to the death of three civilians and 22 policemen. Mahatma Gandhi, who was strictly against violence, halted the non-co-operation movement on the national level on 12 February 1922, as a direct result of this incident.
Why was the NCM called off?
After an angry mob murdered police officers in the village of Chauri Chaura (now in Uttar Pradesh state) in February 1922, Gandhi himself called off the movement; the next month he was arrested without incident.
---
Practice Questions and Answers
1. Who started Non-Cooperation Movement during British India?
A. Mahatama Gandhi
B. Dadabhai Naoroji
C. Gopal Krishna Gokhale
D. Bal Gangadhar Tilak
Ans: A
2. What was the tool of Non-Cooperation Movement during British India?
A. Violent Protest
B. Non-Violent Means
C. Violent Means
D. None of the above
Ans: B
3. Who was the viceroy of British India during Non-Cooperation Movement?
A. Lord Reading
B. Lord Chelmsford
C. Both A & B
D. Only A
Ans: B
4. Which of the following incident was the driver of subsequent withdrawal of Non-Cooperation Movement?
A. Creation of Bengal Presidency
B. Partition of Bengal
C. Jallianwala Bagh Massacre
D. Chauri-Chaura incident
Ans: D
5. Consider the following statement (s) related to the Non-Cooperation Movement
I. Muslim participation gave the movement a mass character.
II. India for the first time saw a leader who had ability to fight face to face. According to Marjorie Sykes, Gandhiji had 'the gift of fight'.
A. Only I
B. Only II
C. Both I & II
D. Neither I nor II
Ans: C
6. Who among the following presented the main resolution on Non-Cooperation Movement during the annual session of the Congress in Nagpur of 1920?
A. Jawaharlal Nehru
B. JM Sengupta
C. MK Gandhi
D. CR Das
Ans: D
7. Who among the following formed communist group in Calcutta under the influenced of M.N. Roy and Nalini Gupta?
A. Purushottamdas Tandon
B. Premchand
C. NC Bardaloi
D. Muzaffar Ahmad
Ans: D
8. Which of the following leader announced himself as a 'King of Salon' and initiated no-taxes movement?
A. Shah Naim Ata
B. MN Roy
C. Bhagwan Ahir
D. Ramchandra Das
Ans: A
9. Who was the pioneer of Chauri Chaura incident?
A. Shah Naim Ata
B. MN Roy
C. Bhagwan Ahir
D. Bhairo Nath
Ans: C
10. Who had given the Non-Cooperation Movement as Capitalist Autocracy?
A. Singaravelu Chettiar
B. NC Bardaloi
C. Thiru Vika
D. Duggirala Gopalkrishnayya
Ans: A